ndia's state owned telecom service provider BSNL has announced an 'Unlimited Broadband at 249' plan to offer 10GB data per day for wireline broadband service which includes unlimited night calling from 9 PM to 7 AM and unlimited calling on all Sundays
all Sundays.
View image on Twitter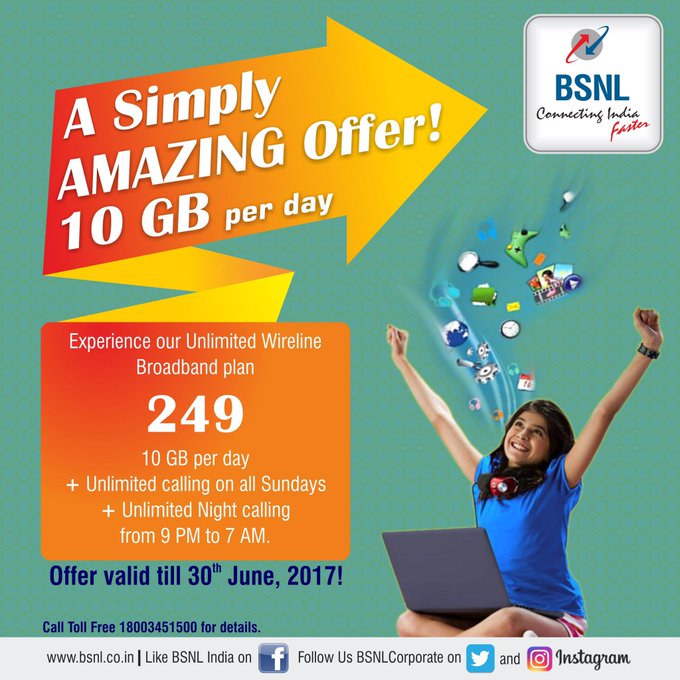 FollowThe plan is priced at Rs 249 per month. But the catch is that the speed of this plan is limited to 2 Mbps. There are no details out on the speeds that will result post crossing the 10 GB per day limit. Aseems unlikely that a regular user would even cross 10 GB per day.
So in all, you are getting 300 GB data per month at Rs 249, with calling benefits thrown in. To get this plan activated, you will need to check with the BSNL customer care center or alternatively dial 1800 345 1500.
BSNL had recently introduced a lot of affordable data plans on the festival of Holi. The existing Rs 156, Rs 198, Rs 291 and Rs 549 plans are being upgraded to offer lots more data and in some cases, increased validity, reports In mid-March BSNL had announced a 2GB per day plan with a validity of 28 days.
Not only data, the new BSNL plan also offers unlimited voice calling on Sunday and unlimited night calling between 9pm to 7am -- not just on BSNL's own network but on any telecom network operating within India.
Cellular Internet access rates have been falling down ever since the Reliance Jio juggernaut took off last year in September, Vodafone and Idea have merged to consolidate the market and offer attractive connectivity plans at record low prices.