beginning when the number of vehicle was very low on the roads of our country there were no serious needs for traffic rules and regulations. But as and when mass production of vehicles begun and the roads flooded with different kind and class of vehicles the Government felt the need for a system to control the vehicular traffic. In the year 1914 the first legislation as "Indian Motor Vehicle Act 1914" was passed in our country to regulate the motor vehicles and as well as other road users. Since then the traffic pressure on the roads of our country multiply several times and at the same time to control the unprecedented growth in the number of motor vehicles, the first Motor Vehicle Act 1914 which was in later years known as "The motor Vehicle Act 1988" was amended and revised several times by the Government of India. Traffic rules and regulations are devised to assure the smooth flowing of motor vehicles in the road. Moreover, traffic rules and regulation are not only for the driver of the vehicles but at the same times these rules are meant for the pedestrians, cyclist, motor-cyclist and other road users. The thorough knowledge of traffic rules/regulations, traffic signs and markings are very essential for the drivers and road users. The proper knowledge of these rules can reduce the number of accident and thus can establish a healthy and organized traffic system in our country.
oday's motor vehicles has inbuilt indicators for showing the direction in which you want to go, driver like to use his hand to give a signal to other road users. By using your hand signals you can tell the other drivers and the road users more effectively about your intentions like slow down, turn and allowing of overtaking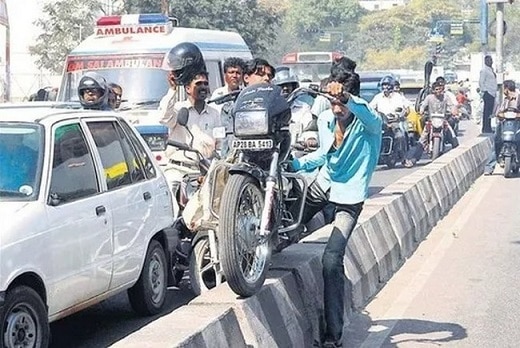 To address the issue of road safety and to improve the facilitation of the citizens while dealing with transport departments, Ministry of Road Transport & Highways constituted a Group of Transport Ministers (GoM) of the States. The GoM headed by Sh. Yoonus Khan, Hon. Transport Minister of Rajasthan held three meetings. A total of 18 Transport Ministers from different political parties participated in these meetings and they have submitted three interim reports.The GoM recommended that to address the pressing issue of road safety and improving transport scenario, Government should immediately bring amendments to the present Motor Vehicle Act. On the basis of recommendations of the GoM and other pressing requirements, MoRTH introduced the Motor Vehicle (Amendment) Bill 2016 for consideration of the Cabinet. Today Cabinet Chaired by Hon'ble Prime Minister Shri Narendra Modi has approved the bill.
In the present Motor Vehicle Act, there are 223 Sections out of which the Bill aims to amend 68 sections whereas Chapters 10 has been deleted and a Chapter 11 is being replaced with new provisions to simplify third party insurance claims and settlement process.